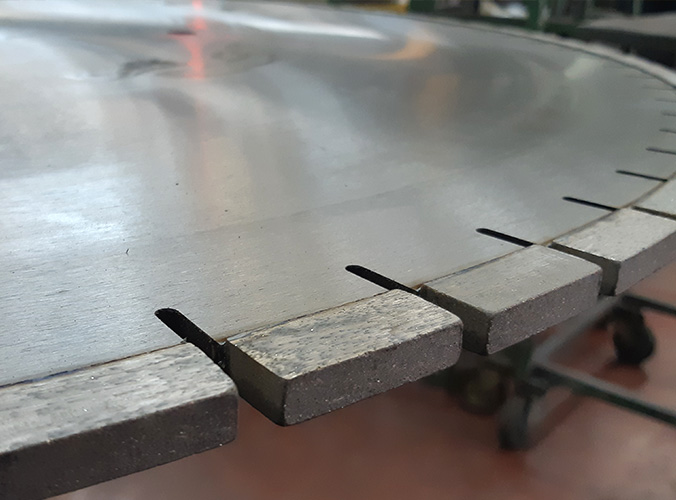 TOOLGAL provides the PSC industry with an efficient and economical solution for cutting pre-stressed concrete and hollow bar elements. Total specifications support in order to optimize the cutting of pre-stressed concrete hollow core slabs, solid sections, T or I beams and railway beds.
BONDING SYSTEM: TOOLGAL various types of bonding systems according to the customer's working conditions and concrete aggregates.
INNOVATION: TOOLGAL GE LINE – This new innovative bonding system permits higher output (speed and performance) and is especially designed as an environmentally friendly product (no heavy metals).
SEGMENT SHAPES AND STRUCTURE: In order to maximize the tool efficiency, combines the bonding system with the right shape and inner structure of the segment.
Request a sample or information
SEGMENT TYPE
| | | | | |
| --- | --- | --- | --- | --- |
| Family | Sub Family | Aggregates | Speed | Life |
| T | 5TSA | SOFT / ABRASIVE | ++ | +++ |
| | 7TSA | SOFT / ABRASIVE | ++ | +++++ |
| | 5TSM | SOFT TO MID | +++ | +++ |
| | 7TSM | SOFT TO MID | ++ | ++++ |
| SK | 5SKSH | SOFT TO HARD | ++++ | +++ |
| | 7SKSH | SOFT TO HARD | +++ | ++++ |
| | 5SKSM | SOFT TO MID | +++ | +++ |
| | 7SKSM | SOFT TO MID | ++ | +++++ |
| GE | 7GESH | SOFT TO HARD | ++++ | +++ |
| | 7GESM | SOFT TO MID | +++ | ++++ |
STANDARD BLADE SPECIFICATIONS
| | | | |
| --- | --- | --- | --- |
| BLADE DIAMETER (mm) | SEGMENT LENGTH (mm) | CORE THICKNESS (mm) | SEGMENT HEIGHT (mm) |
| 500-800 | 40 | 6.5 / 7.0 | 10 / 12 / 15 |
| 900-1050 | 40 | 7.0 / 7.5 / 8.0 | 10 / 12 / 15 |
| 1100 | 40 | 8.0 | 10 / 12 / 15 |
| 1100-1200 | 24 | 8.0 / 9.0 | 15 / 20 |
| 1200-1300 | 40 | 9.0 / 10.0 | 10 / 12 / 15 |
| 1350 | 40 | 9.0 / 10.0 | 10 / 12 / 15 |
ITEM CODING FOR SEGMENTS
| | | |
| --- | --- | --- |
| DIAMETER | DIMENSIONS | SUB FAMILY |
| D1110 | (LxTxH) 40×8.0x15 | 7GESM |